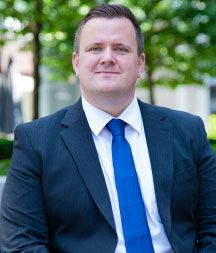 T: 0203 950 5261   M: 07756 588 723
Paul is one of the founding Directors of Adams Kaye, having worked for 3 years at The Partnership Property Solicitors, heading up their London office. Prior to this, Paul worked with Stuart Kaye at DKLM Solicitors.
Paul has developed a reputation as a leading lawyer in his field of expertise, known for his pragmatic commercial minded approach. Paul's hyper-efficient work ethic ensures deals complete swiftly; ensuring transparency at all times by keeping key parties up to date, he removes stress and uncertainty from the conveyancing process.
Paul is the industry go-to lawyer for resolving complex legal issues, due to his wealth of knowledge and expertise, he has also used his experience in the property sector to build residential property teams, developing and mentoring trainees into first class property lawyers.
Outside of conveyancing, Paul is an avid follower of Gillingham FC and a keen swimmer.